Calling all volunteers!
If you made it to this page…keep on reading…we want you!!
I would like to volunteer!! See position descriptions below, and then click on this link if you want to volunteer.
As the old saying goes…we couldn't do it without you, our volunteers. And it's oh so true. If you've been a rider and want to experience the 'other' side of the ride give it a try. If you've volunteered before you know how much fun it can be (okay, it can be a little chaotic) and the rewards are priceless. Contact Adam Bergen for more information.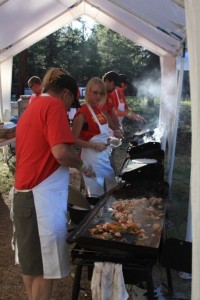 We're looking for all sorts of people to help out. Lend us your talents in any of these areas:
Sponsorship

As much as we would like to say we're superstars, we can't do it all ourselves.  Past F2GC riders and others that help pitch to their employer or favorite neighborhood places to donate money or goods to the event. Hit up that pizza joint you frequent every Friday! If interested, download the sponsorship packet from this site or get ahold of us. We'll walk you through the details…and be forever grateful.
Registration (2-3 people)

Help is needed on Friday evening (4:00 – 8:00) with registration set up for early rider check in and bright and early Saturday morning (5:30 a.m.). for the remainder of the check in. We won't lie. Chaos ensues between 6:00 and 7:00. Duties include set-up of the pop-up tent, t-shirts, goody bags and event day materials. Requires a quick overview of the registration process and a bright cheery smile! We may even send you out as the wake up crew to round of those early Saturday morning stragglers.
Event Logistics
Route Marking
SAG Stops
We have three SAG stops along the route. These are crucial areas where riders are counted, rest, and refuel. We need volunteers who are willing to spend a good portion of the day at a pre-determined point along the route. You are a welcome respite for many riders and at your SAG stop we encourage you to have fun! You will need to have a 4WD vehicle that can haul a pop-up tent and supplies and get out to the SAG area along the route. These are crucial stations and we need responsible individuals. You'll set up food (SAG 2 whips up PB&J sandwiches), water, electrolyte drinks and other snacks and will also have basic bike supplies if needed for the bikers. Each of these stops will also have a ride counter and will have a communication point to the event organizers. Basic knowledge of bike maintenance is helpful. We need volunteers for our SAG 2 and SAG 3 stations. SAG 1 is typically run by the great volunteers from the Marine Corps and Toys for Tots.
Kitchen Help

Assist in the kitchen with our Marine League Volunteers to prepare dinner and breakfast for the many hungry folks at the ride. Help is always appreciated and needed here!! Click here to volunteer.
Ride Counters
Stationed at each SAG stop. These volunteers keep track of the riders.
SAG Vehicle Assistance

The AZ Xterra Club have a long history with the Flagstaff to Grand Canyon Bike Ride. A well fueled and oiled machine, they are always looking for help along the way.

Saturday Volunteers

Home 'camp' for Saturday is located eight miles into the Kaibab forest along the boundaries of the Grand Canyon National Park. It's here where we continue the fun and festivities from the day. Volunteers from the Marine Corps / Toys for Tots and Xterra SAG Crew will already be here camped and ready to get the snacks and cookin' going for the night. We need help in these areas:
Volunteer Drivers
If you're an 'extra' person in your group and want to take a scenic drive to the Grand Canyon we have many riders who are looking to get their cars shuttled to the Saturday night camp. Hop in the car, turn on Jack Johnson and settle in for the ride! This one's easy.
Event Set-Up / Breakdown

We need able bodies to help unload the U-Haul and set up pop-up tents for the raffle and beer areas. In the event of inclement weather we may set up additional pop ups to shelter riders and volunteers. You may also help move and set up portable tables, chairs and boxes (raffle and t-shirt items) and other items as needed. We also need you in reverse. As quickly as we set it up Saturday, we tear down just as fast on Sunday. So, we ask for assistance on the breakdown of the pop ups, taking down signage. Will require you to lift heavy items.
Raffle and Merchandise Tent

If you're great at selling — we want you! We open up this tent around noon and need you to help sell raffle tickets and merchandise. This can be a fun way to meet everyone and a great challenge to see how much money you can raise for the raffle giveaway. More volunteers are needed in the afternoon when everyone is settling into camp.